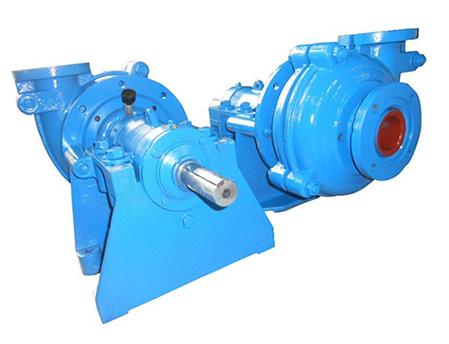 Product Introduction:
Structure:
the heavy slurry pump is cantilever horizontal double-housing axial suction centrifugal slurry pump. The discharge nozzle can be installed at 8 different angles at 45°interval as required.
Material: the pump body of heavy slurry pump has a replaceable wear-resistant metal lining. The impeller, sheath and guard board and other flow passage components are made of wear-resistant metal.
Application: it can be used to convey strong abrasive slurry in small capacity low head area, and to convey light abrasive slurry in high head big capacity area. It is suitable for conveying strong abrasive and high concentration slurry in metallurgy, mining, coal, electric power, building material and other industries. This type of pump can be used in plural serial stage.
Sealing: shaft seal of heavy slurry pump can adopt packing seal, vice impeller seal, packing and impeller seal, mechanical seal, etc.
Drive system: DC direct drive, CR parallel belt drive, ZVZ upper and lower belt drive, CV vertical belt drive, etc.
Model Implication
Example: SY3-4D

4:suction diameter;3:discharge diameter;D:bracket type;SY:product series
Model

Maximum Allowable Belt Power (kw)

Clean Water Performance

Impeller

Flow Q

Head
H

(m)

Rotation Speed

n
(r/min)

Peak Efficiency

η(%)

NPSH

(m)

Number of blades

Impeller diameter

(mm)

(m3/h)

(L/S)

1.5/1B-AH

15

12.6-28.8

3.5-8

6-68

1200-3800

40

2-4

5

152

2/1.5B-AH

15

32.4-72

9-20

6-58

1200-3200

45

3.5-8

5

184

3/2C-AH

30

39.6-86.4

11-24

12-64

1300-2700

55

4-6

5

214

4/3C-AH

30

86.4-198

24-55

9-52

1000-2200

71

4-6

5

245

4/3D-AH

60

6/4D-AH

60

162-360

45-100

12-56

800-1550

65

5-8

5

365

6/4E-AH

120

6/4D-AH

60

180-396

50-110

7-61

600-1600

55

3-8

4

372

6/4E-AH

120

8/6E-AH

120

360-828

100-230

10-61

500-1140

72

2-9

5

510

8/6R-AH

300

SY8-6E

120

360-828

100-230

7-52

400-1000

70

2.5-6

4

536

SY6-8R

300

360-828

100-230

7-52

400-1000

70

2.5-6

4

536

10/8ST-AH

560

612-1368

170-380

11-61

400-850

71

4-10

5

686

12/10ST-AH

560

936-1980

260-550

7-68

300-800

82

6

5

762

14/12ST-AH

560

1260-2772

350-770

13-63

300-600

77

3-10

5

965

16/14ST-AH

560

1368-3060

380-850

11-63

250-550

79

4-10

5

1067

16/14TU-AH

1200

10/8E-M

120

540-1440

150-400

14-60

600-1100

73

4-10

5

549

SY8-10REM

300