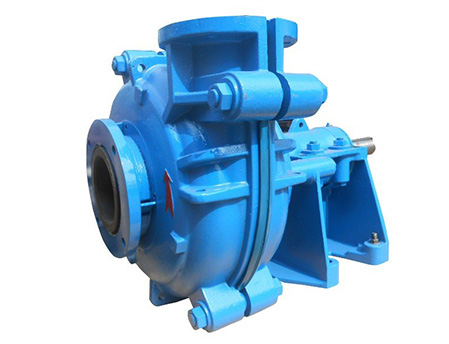 Product Introduction
Structure: it is a cantilever horizontal double-housing axial suction centrifugal slurry pump. The discharge nozzle can be installed at 8 different angles at 45°interval as required.
Material:
The slurry pump is lined with replaceable rubber, and the impeller, guard board, front and back sheath are all made of wear and corrosion resistant rubber.
Application:
The rubber pump is suitable for conveying of particles with small size and no sharp corners and high density slurry. It can also be used to convey corrosive slurry.
Sealing: packing seal, vice impeller seal, packing and vice impeller seal, mechanical seal, etc.
Drive System: DC direct drive, CR parallel belt drive, ZVZ upper and lower belt drive, CV vertical belt drive, etc.
Model Implication
Example: SY4-6DR
6: suction diameter; 4 discharge diameter; D: bracket type; SY: product series; R: rubber lining
Rubber Lined Slurry Pump Clean Water Performance Curve:
Model

Maximum Allowable Belt Power
(kw)

Clean Water Performance

Impeller

Flow Q

Head

H

(m)

Rotation Speed
n
(r/min)

Peak Efficiency
η(%)

(NPSH)
(m)

Number of blades

Impeller diameter

(mm)

(m3/h)

(L/S)

SY1-1.5BR

15

10.8-25.2

3-7

7-52

1400-3400

35

2-4

5

152

SY1.5-2BR

15

25.2-54

7-15

5.5-41

1000-2600

50

2.5-5

5

178

SY2-3CR

30

36-75.6

10-21

13-39

1300-2100

55

2-4

5

213

SY3-4CR

30

79.2-180

22-50

5-34.5

800-1800

59

3-5

5

245

SY3-4DR

60

SY4-6DR

60

144-324

40-90

12-45

800-1350

65

3-5

5

365

SY4-6ER

120

SY6-8ER

120

324-720

90-200

7-49

400-1000

65

5-10

5

510

SY6-8RR

300