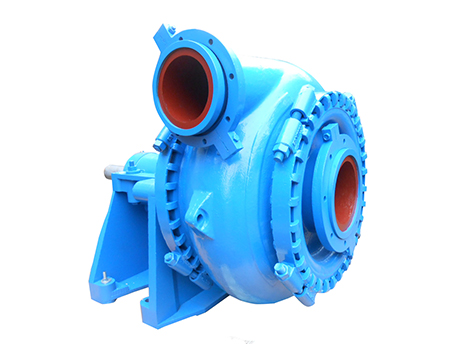 Product Introduction
Structure:
Horizontal single-housing centrifugal pump. The pump body and pump cover are clamped by a special card hoop. The discharge nozzle can be at any direction within 360°, so it is easy to install and use. The bearing components adopt cylinder structure, making it easy to adjust the clearance between the impeller and the pump body, and it can be dismantled as a whole. The bearings are lubricated with grease.
Material: the flow passage components are made of high hardness wear-resistant alloy cast iron.
Application:
Spacious passageway, good cavitating performance, high efficiency, wear-corrosion resistance. It is mainly used for continuous conveying of strong abrasive materials which cannot be conveyed by general slurry pump due to large particle size. It is suitable for dredging, gravel pumping, river dredging, river channel sand mining and metal smelting slag conveying, etc.
Sealing: packing seal, vice impeller seal, mechanical seal.
Drive System: V-belt drive, elastic coupling drive, gear reducer drive, hydrocoupling drive, variable-speed drive, silicon controlled speed regulating, etc. By various speed and variant ways, the pump can operate under the optimum condition. With long service life and high operating benefit, it can meet various poor conveying conditions.
Model Implication
6:suction diameter;4:discharge diameter;D:bracket type;G:product series

G Type Gravel Pump Clean Water Performance Curve:
Model

Discharge Diameter
mm

Rotation Speed
r/min

Performance Parameter

Maximum Belt Power
kw

Impeller Diameter
mm

Maximum Allowable Particle Size

mm

Flow
m³/h

Head
m

Efficiency (%)

6/4D-G

100

600-1400

36-250

7-56

50

60

378

82

8/6E-G

150

800-1400

180-540

12-52

60

120

378

127

10/8F-G

200

500-1000

180-820

12-56

60

260

533

178

12/10G-G

250

400-850

360-1200

12-60

65

600

667

220

14/12T-G

300

300-700

700-2700

8-70

65

1200

864

241

8/6F-GH

150

500-1100

520-900

18-80

70

260

610

140

10/8S-GH

200

500-950

750-1300

20-75

70

560

686

180

12/10G-GH

250

350-700

1400-2700

10-60

70

600

915

210