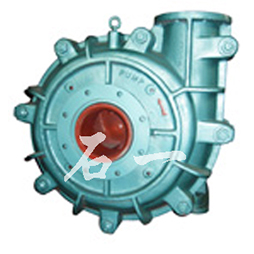 Product Introduction:
Structure:
the light slurry pump is cantilever horizontal double-housing axial suction centrifugal slurry pump. The discharge nozzle can be installed at 8 different angles at 45° interval as required.
Material: the pump body of light slurry pump has a replaceable wear-resistant metal lining. The impeller, sheath and guard board and other flow passage components are made of wear-resistant metal.
Application:
Compared with heavy slurry pump, this pump has higher revolution speed, smaller volume, and lighter weight. It is suitable for conveying slurry with fine particles and low concentration or corrosive slurry. The weight concentration of the slurry is generally no more than 30%. It also can be used to convey high concentrations low abrasive slurry.
Sealing: the shaft seal of the pump can adopt packing seal, vice impeller seal, packing and impeller seal, mechanical seal, etc.
Drive system: DC direct drive, CR parallel belt drive, ZVZ upper and lower belt drive, CV vertical belt drive, etc.
Model Implication:
Example: SY75C-100
100: suction diameter;75:discharge diameter;C:bracket type;SY:product series