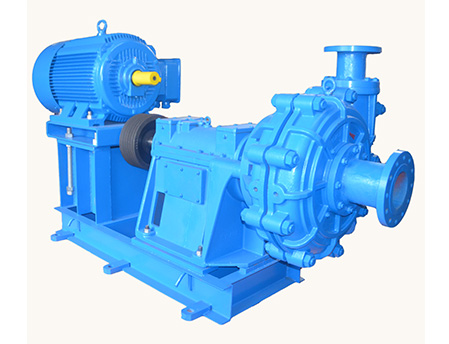 Product Introduction:
Characteristics and Applications
It can meet the development demand of electric power, metallurgy, coal and other industries. In view of the characteristics of the working condition of slag & ash removal and slurry transportation, based on decades of experience in slurry pump design and manufacture and drawing lesions from domestic and foreign advanced technology and research results, our factory has developed a new generation of large-flow high-lift ZGB(P) series slurry pump which can be used in plural serial stage.
The main technical features of this product series are as follows:
With modern CAD design method, it has good hydraulic performance, high efficiency and low wear rate. With spacious flow passage, it has good anti-clogging performance and cavitating performance. It adopts vice impeller and packing combined seal and mechanical seal to ensure no leakage of slurry. The reliable design makes the complete machine MTBF improve a lot. It adopts thin oil lubrication metric bearing and designs the lubrication and cooling system reasonably to ensure the bearing operate at low temperature. The flow passage components are made of special material with good resistance to wear and corrosion. After special treatment, it can be used in seawater dusting and seawater and salt fog electrochemical corrosion condition. Within allowed pressure range, it can be used in plural serial stage. The maximum allowed pressure is 3.6MPa. This pump series is characterized with reasonable structure, high efficiency, reliable operation and easy maintenance. It is widely used in electric power, metallurgy, mining, coal, building materials, chemical engineering and other industries to convey abrasive or corrosive slurry, especially for power plants to convey ash.
ZGB Series Slurry Pump Performance Curve
Model

Suction/Discharge Diameter

(mm)

Rotation Speed
n
(r/min)

Clean Water Performance

Shaft Power
Pa
(kw)

Impeller Diameter

(mm)

Flow
Q
(L/S)

Head
H
(m)

Efficiency

η
(%)

(NPSH)

(m)

65ZGB

80/65

1480

15.8-31.7

58-61.0

48-54

3.0-5.5

19.7-33.4

390

980

10.5-21.0

25.4-26.7

48-54

3.0-5.5

5.73-9.69

80ZGB

100/80

1480

28.3-56.7

87.5-91.6

45-64

2.7-5.2

56.0-75.7

490

980

18.8-37.5

38.4-40.2

45-64

2.7-5.2

16.3-22.0

1480

25.7-51.5

72.2-75.5

45-64

2.7-5.2

42.0-56.7

445

980

17.1-34.1

31.7-33.1

45-64

2.7-5.2

12.2-16.5

1480

23.1-46.2

58.3-61.0

45-64

2.7-5.2

30.5-41.1

400

980

15.3-30.6

25.6-26.7

45-64

2.7-5.2

8.8-12.0

100ZGB

152/100

1480

58.3-116.7

85.1-91.8

57-78

2.6-6.0

91.4-124.9

490

980

38.6-77.3

37.3-40.3

57-78

2.6-6.0

26.6-36.3

1480

52.5-105.0

68.9-74.4

57-78

2.6-6.0

66.7-91.0

445

980

34.8-69.5

30.2-32.6

57-78

2.6-6.0

19.4-26.4

1480

46.7-93.4

54.5-58.8

57-78

2.6-6.0

46.9-64.0

400

980

30.9-61.8

23.9-25.8

57-78

2.6-6.0

13.6-18.6

150ZGB

200/150

980

100.0-200.0

85.2-90.0

50.5-74

2.7-3.8

174.4-226.6

740

740

75.6-151.2

48.6-51.3

50.5-74

2.7-3.8

75.3-97.7

980

91.2-182.4

73.0-77.1

50.5-74

2.7-3.8

135.6-177.1

685

740

70.2-140.0

41.6-44.0

50.5-74

2.7-3.8

59.9-77.7

980

84.6-169.2

61.8-65.2

50.5-74

2.7-3.8

107.0-139.0

630

740

64.8-129.6

35.2-37.2

50.5-74

2.7-3.8

46.7-60.7

200ZGB

250/200

980

150-300

89-94.2

63-76

2.7-6.7

219-343

740

740

113.3-227

50.7-53.7

63-76

1.5-3.8

94.3-148

980

141.9-283.8

79.6-84.3

63-76

2.4-6

186-290

700

740

107.1-214.3

45.4-48.1

63-76

1.4-3.4

80-125

980

129.7-260

66.6-70.5

63-76

2-5

142-222

640

740

98-196

38-40.2

63-76

1.1-2.9

61-95.6

250ZGB

300/250

980

400

84

78.2

7.3

421.2

740

333.3

88

77

5.7

373.4

740

302

47.9

78.2

4.2

181.4

251.7

50

77

3.3

160.9

980

378.4

75.2

78.2

7.1

356.7

700

315.3

78.7

77

5.1

316

740

285.7

42.9

78.2

4

153.7

238.1

44.9

77

2.9

136.1

980

348.6

63.8

78.2<, , /P>

5.5

278.8

645

290.5

66.9

77

4.3

247.4

740

263.2

36.4

78.2

3.1

120.1

219.4

38.1

77

2.5

106.4

3000ZGB

350/300

980

533.3

84.3

81.2

6.9

543

760

444.4

89.8

80

5

489.1

740

402.7

48.1

81.2

3.9

234

335.6

51.2

80

2.9

210.6

980

493.3

72.1

81.2

5.9

429.4

703

411.1

76.8

80

4.3

387

740

372.5

41.1

81.2

3.4

184.8

310.4

43.8

80

2.5

166.6

980

453.3

60.9

81.2

5

333.3

646

377.8

64.9

80

3.6

300.5

740

342.3

34.7

81.2

2.9

143.4

285.3

37

80

2.1

129.4