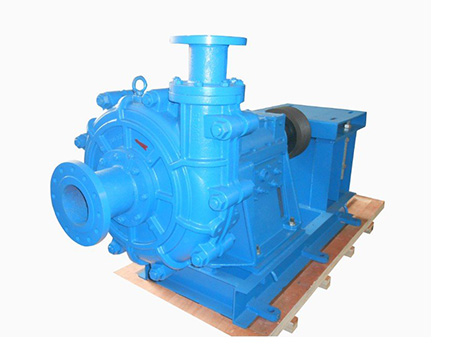 Product Introduction
Structure:
ZJ series slurry pump is wear-resistant, efficient and energy-saving. Adopting the international advanced design theory, the pump is designed according to the principle of minimum loss, making the shape of flow passage components and the slurry flow state reach the ideal state.
Material:

The flow passage components are made of high hardness wear-resistant cast iron alloy, which has good resistance to wear, corrosion and impact, to extend the service life. With power step down, the pump is sealed effectively and the slurry is not easy to leak.
Drive system: DC drive, belt drive, hydraulic drive, frequency control, etc. It can be used in series or in parallel according to users' requirements.

Model Implication

Example: 100ZJ-Ⅰ-A50
100:discharge diameter; ZJ product series: Ⅰ: Ⅰ pump; A: number of blades; 50: impeller diameter
ZJ Type Slurry Pump Clean Water Performance Curve
Model

Maximum Allowable Belt Power

(KW)

Clean Water Performance

Maximum Disconnected Particle Size

(mm)

Weight
(kg)

Flow
Q
(m3/h)

Head
H
(m)

Rotation Speed
n

(r/min)

Peak Efficiency
η

(%)

(NPSH)
r
(m)

300ZJ-I-A100

450

464-1826

15.3-65.2

300-590

80.7

3

88

5265

300ZJ-I-A95

400

441-1735

13.8-58.8

300-590

77.7

3

88

5220

300ZJ-I-A90

560

505-1844

21.2-79.9

400-730

81.4

3.9

85

5005

300ZJ-I-A85

450

477-1742

18.9-71.3

400-730

78.4

3.8

85

4965

300ZJ-I-A70

630

635-2333

16.0-76.8

490-980

80.4

3.9

92

3560

300ZJ-I-A65

500

589-2166

13.8-66.2

490-980

77.4

3.7

92

3531

300ZJ-I-A56

250

395-1568

9.7-46.0

400-980

80.9

3.5

96

3030

250ZJ-I-A103

560

402-1573

29.7-110.5

400-730

74.5

2.8

69

5085

250ZJ-I-A96

560

403-1466

25.4-93.7

400-730

77.8

3.5

69

5035

250ZJ-I-A96

450

378-1374

22.3-82.4

400-730

73.8

3.4

69

4980

250ZJ-I-A85

800

376-1504

30.1-128.7

490-980

75.6

3.5

76

4530

250ZJ-I-A83

800

367-1469

28.7-122.7

490-980

74.6

3.5

76

4514

250ZJ-I-A80

710

354-1416

26.7-114.0

490-980

72.6

3.4

76

4490

250ZJ-I-A78

630

345-1380

25.4-108.4

490-980

70.6

3.2

76

4474

250ZJ-I-A75

560

300-1480

20.8-97.5

490-980

76

3

72

3480

250ZJ-I-A73

500

292-1441

19.7-92.4

490-980

75

3

72

3446

250ZJ-I-A70

450

280-1381

18.1-84.9

490-980

73

2.9

72

3446

250ZJ-I-A68

450

272-1342

17.1-80.1

490-980

72

2.7

72

3432

250ZJ-I-A65

315

299-1249

15.4-71.0

490-980

76.9

3

72

3020

250ZJ-I-A63

315

290-1211

14.4-66.7

490-980

75.9

3

72

3008

250ZJ-I-A60

280

276-1153

13.1-60.5

490-980

73.9

2.8

72

2991

200ZJ-I-A85

560

221-907

32.0-133.7

490-980

70.5

2.8

54

4110

200ZJ-I-A75

355

225-900

22.8-102.9

490-980

72.8

3

56

3070

200ZJ-I-A73

355

219-876

21.6-97.5

490-980

71.8

3

56

3056

200ZJ-I-A70

315

205-976

19.4-86.4

490-980

75.6

2.8

56

2465

200ZJ-I-A68

315

199-948

18.3-81.5

490-980

74.6

2.8

56

2453

200ZJ-I-A65

250

235-950

16.4-72.0

490-980

79.6

2.5

62

2323

200ZJ-I-A63

250

228-921

15.4-67.6

490-980

78.6

2.5

62

2311

200ZJ-I-A60

185

218-870

13.9-62.0

490-980

82.7

2.5

62

2223

200ZJ-I-A58

185

211-841

13.0-57.9

490-980

81.7

2.5

62

2214

150ZJ-I-A70

185

93-401

22.0-91.2

490-980

62.3

2

37

2245

150ZJ-I-A65

200

150-600

17.4-75.7

490-980

69.2

2.5

48

2223

150ZJ-I-A63

185

146-582

16.3-71.1

490-980

69.2

2.5

48

2211

150ZJ-I-A60

160

135-550

14.7-63.5

490-980

74.6

2.5

48

2203

150ZJ-I-A58

132

131-532

13.7-59.3

490-980

73.6

2.5

48

2033

150ZJ-I-A55

110

124-504

12.3-53.4

490-980

71.6

2.3

48

2019

150ZJ-I-C58

160

134-596

12.8-61.0

490-980

69.1

2

75

2063

150ZJ-I-A57

110

95-427

13.2-56.3

490-980

66.6

1.8

32

2023

150ZJ-I-A50

75

115-460

9.5-43.1

490-980

76.8

2.5

48

1735

150ZJ-I-A48

75

111-442

8.7-39.7

490-980

75.8

2.5

48

1728

150ZJ-I-C42

132

142-550

12.1-62.8

700-1480

76.4

2.2

69

1605

100ZJ-I-A50

160

85-360

20.5-100.2

700-1480

68.5

2.5

34

1475

100ZJ-I-A46

132

79-331

17.3-84.8

700-1480

66.5

2.3

34

1461

100ZJ-I-A42

90

66-275

14.7-70.8

700-1480

70.4

2.5

35

1075

100ZJ-I-A39

75

61-255

12.6-61.0

700-1480

68.4

2.4

35

1064

100ZJ-I-B42

75

45-205

12.6-70.7

700-1480

63.2

1.8

18

1085

100ZJ-I-A36

55

61-245

9.7-49.5

700-1480

71.6

2

32

1010

100ZJ-I-A33

45

56-225

8.2-41.6

700-1480

69.6

1.8

32

1003

80ZJ-I-A52

160

51-242

22.1-109.8

700-1480

56.3

2.1

21

1465

80ZJ-I-A42

75

61-204

14.4-70.4

700-1480

66.7

2.5

24

1053

80ZJ-I-A36

45

46-190

9.6-51.4

700-1480

67.7

2.4

24

980

80ZJ-I-A33

37

43-174

8.0-43.2

700-1480

65.7

2.3

24

973

65ZJ-I-A30

15

23-79

7.4-34.8

700-1480

63.5

2

19

504

65ZJ-I-A27

11

20-71

6.0-28.2

700-1480

61.5

1.8

19

500

50ZJ-I-A50

90

27-111

22.3-110.7

700-1480

45.1

3

13

1378

50ZJ-I-A46

55

23-94

17.9-85.8

700-1480

44.7

1.4

13

1082

50ZJ-I-A33

18.5

12-54

7.7-42.5

700-1480

41.4

2.9

13

537

40ZJ-I-A17

4

4-23

9.0-44.6

1400-2900

52.4

2.5

11

121
Fault

Causes

Solution

The pump doesn't suck

Air leakage in suction tube or packing position
Wrong rotation or impeller damage
Suction tube blockage

Plug the leak part
Check the rotation direction, replace with new impeller
Remove the blocking

Too large shaft power

Packing gland is too tight, causing packing heating
Pump production friction
Bearing damage
Drive belt is too tight
Too big flow
Too high rotation speed, big proportion
Motor shaft and pump shaft misalignment or unevenness

Loosen the packing gland bolt
Eliminate the friction
Replace the bearing
Adjust the belt
Adjust the operation condition of the pump
Adjust the rotation speed
Adjust the motor shaft and pump shaft

Bearing overheat

Too much or too little bearing grease
Impurities in grease
Bearing damage

Add proper quantity of grease
Replace the grease
Replace bearing

Short service life of bearing

Motor shaft and pump shaft misalignment or unevenness, shaft bending
Friction in pump or unbalance of impeller
Foreign matter in bearing or wrong quantity of grease
Unreasonable assembly of bearing

Adjust the motor shaft and pump shaft
Replace and clean the shaft
Eliminate the friction and replace with new impeller
Replace the bearing or reassemble the bearing

Serious leakage in packing position

Serious wear of packing
Serious wear of shaft sleeve
Unclean seal water

Replace packing
Replace shaft sleeve
Replace with clean seal water

Pump vibration, high noise

Bearing damage
Unbalance of impeller
Air in suction tube, causing blockage
Uneven flow, pump depletion

Replace with new bearing
Replace with new impeller
Eliminate air suction, clean the blocking part
Improve the intake condition of the pump